World Updates
Art Spiegelman discusses the legacy of "Maus" amid "fascist" book bans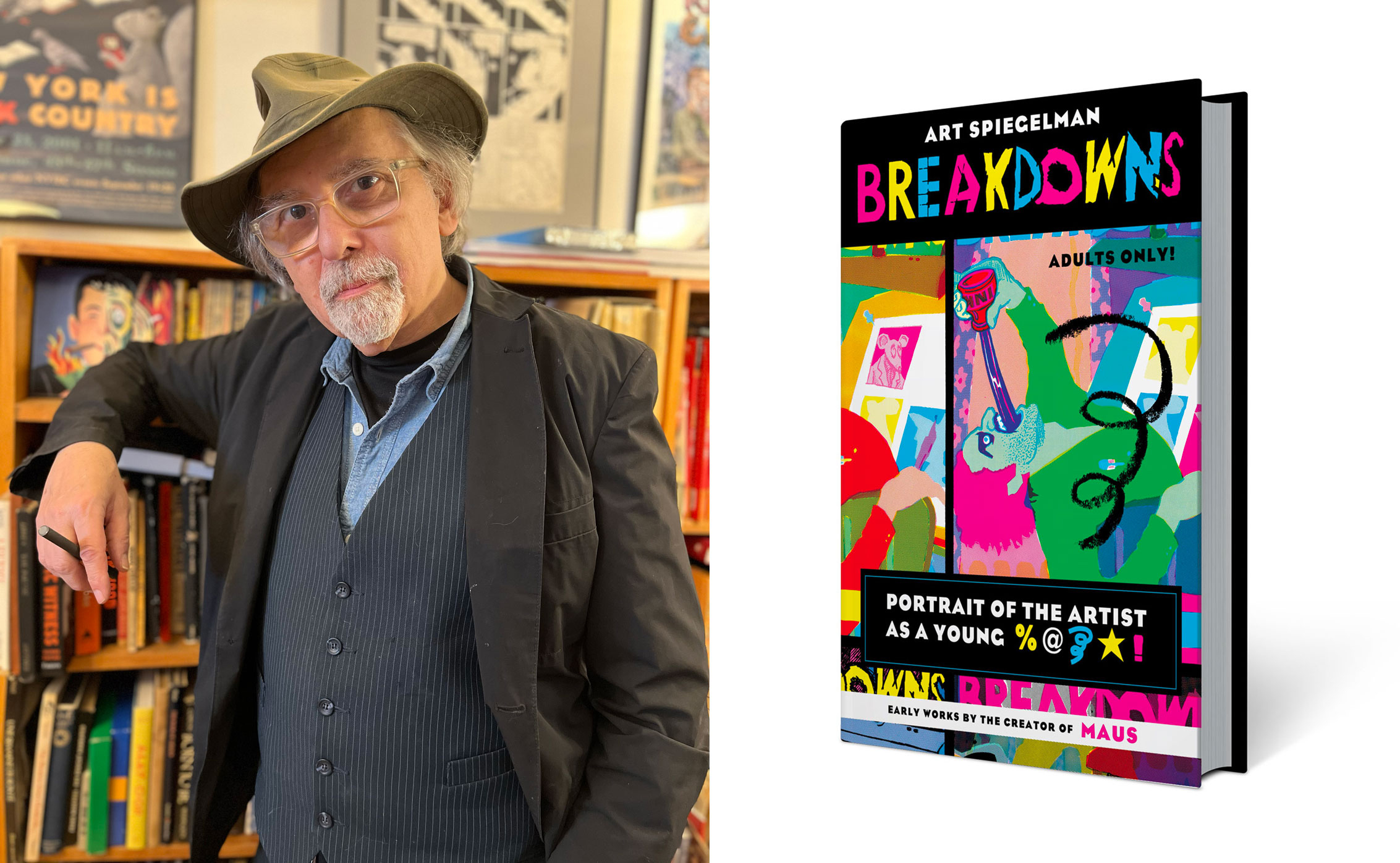 In the brightly lit Manhattan apartment where Art Spiegelman lives and works, there are cluttered shelves packed with piles of books and colorful framed illustrations and photos filling the walls.
It is a vibrant contrast to the 2-D, black-and-white illustrations of Nazi cats persecuting Jewish mice during the Holocaust that the 74-year-old Spiegelman portrays in his graphic novel, Maus.
Only two days before, on November 16, Spiegelman was honored at the National Book Awards with a Lifetime Achievement Award. He was presented with the Medal for Distinguished Contribution to American Letters, an award he told Newsweek he felt "ambivalent" about winning.
"On the one hand," Spiegelman said via Zoom, "I'm now grateful for the honor, even though I did spend a lot of my life trying to outrun a 500-pound mouse because it's so much taller than anything else I've done. I was constantly trying to like, evade it or compete with it or something. And the last year has taught me, 'Give it up man. You made something, it's large and [it has] impacted a lot of people, you should be glad that that happened.'"
Maus, perhaps Spiegelman's most famous work, tells the story of his mother and father and their experiences as Polish Jews who survived the Holocaust.
Spiegelman has said in previous interviews, as well as this one, that he did not create Maus to win awards, though the graphic novel has been lauded with numerous awards and honors since it was published in book form in 1986, including the Harvey Award, the Eisner Award, and a Pulitzer prize.
"I did [Maus] to understand how I got on this planet when both my parents were supposed to be dead before I got here," Spiegelman said. "And [to] try to understand literally what they went through, and what I had as a miasmic presence in my life growing up that needed to be understood, parsed, and articulated for me to move forward."
Although Spiegelman's creation is filled with personal intent, it is also a work that has consistently unnerved some of its audience.
Earlier this year, Maus was banned by a Tennessee school board that found the content within the graphic novel inappropriate for the school curriculum. It was also recently on PEN America's Banned Books index, a nationwide list that is updated to reflect all the books that are banned in classrooms and libraries across the United States.
In response to the newest round of bans, Spiegelman said, "Well, what could be more fascist than preventing people from seeing the consequences of fascism?"
The controversial ban was condemned by many as antisemitic and a denial of the Holocaust, but Spiegelman thinks the issue is "bigger and stupider than that."
"It has to do with not wanting kids to see anything that's anti-authoritarian at all," Spiegelman said, referencing moments in the book where the main character curses at both of his parents. "It's part of that rebelliousness that made Maus so useful because it wasn't a saintly version of Holocaust survivors, it was just, suffering causes suffering."
"It doesn't make people better," he continued. "They're not saints. It's not a Christian story in that sense."
Spiegelman believes that the "nervousness" surrounding Maus is because the story itself is not a happy one.
"It doesn't say that people were made better by suffering," he said. "It's just caused them a lot of pain. People are not saints, despite what some books ask you to aspire to. And it's not only saints who should be allowed to survive—but usually, they get burned at the stake."
If suffering causes more suffering, laughter could be the antidote, according to Spiegelman. But comedy also comes with controversy. Look no further than comedian Dave Chapelle's remarks on Saturday Night Live regarding recent antisemitic comments from Kanye West.
"I have no problem with the Dave Chappelle thing that seems to have gotten some people's panties in a knot," Spiegelman said. "And I think it's probably useful for these things to get aired through comedy because comedy allows you to do what laughter does; laughter reminds you of your pain, and lets you master it without screaming with pain but screaming with laughter when it's a good version of itself. It's how one masters one's fear."
Looking at his own work, Spiegelman said that he "should be grateful" to Maus, for its colossal "shadow [over] anything else that I did. Especially seeing what's going on in the world right now."
"It's gotten a lot more dangerous than it's ever been," he said. "Everything from antisemitism to anti-abortion laws to racist relationships with our Black population, with people south of the border, refugees…It's just getting more and more fraught while the whole planet fries, and as a result, if Maus can be a corrective of any kind, I have to gratefully accept."
However, Spiegelman holds a special place in his heart for another work of his: Breakdowns, a collection of comic strips he created dating back to before Maus.
While the first hardcover edition came out in 1978, followed by an expanded edition known as Portrait of the Artist as a Young %@&*! in 2008, Breakdowns is getting another edition, to be published on December 13.
The new paperback edition will showcase a more intimate look at Spiegelman's work, including both short strips and essays about Spiegelman's time drawing underground comics that he created when first learning to be a cartoonist, as well as some "autobiographical snippets." It also includes an extended version of Maus as well as a new foreword.
One of Spiegelman's favorite pages in Breakdowns is one in which his work is accompanied by an essay written by his wife of 45 years, Françoise Mouly.
"I analyzed it panel by panel, though that can seem like an incredibly pretentious thing to do…to help some people get a clue as to, 'What am I doing?'" Spiegelman said. "It's not just psychedelic, it's not just arbitrary picture-making. It shows what happens when words and pictures come together to live in separate one page."
"I think that images should be far more respected than they are very often," he said. "Language sort of seems tonier because it requires learning how to decode them. Images, before you can decode them, they're there, right in you to never be expurgated again."
And to those who fear the images that Spiegelman creates?
The artist suggested they "learn not only to respect the images but to understand that comics are probably the best education you could give somebody in learning how to deal with the bombardment of images that are part of every person's day."
Most Related Links :
Daily News Era Latest News Sports News Finance News Automobile News