World Updates
Labrador who likes to carry owner's shopping wins Pet of the Week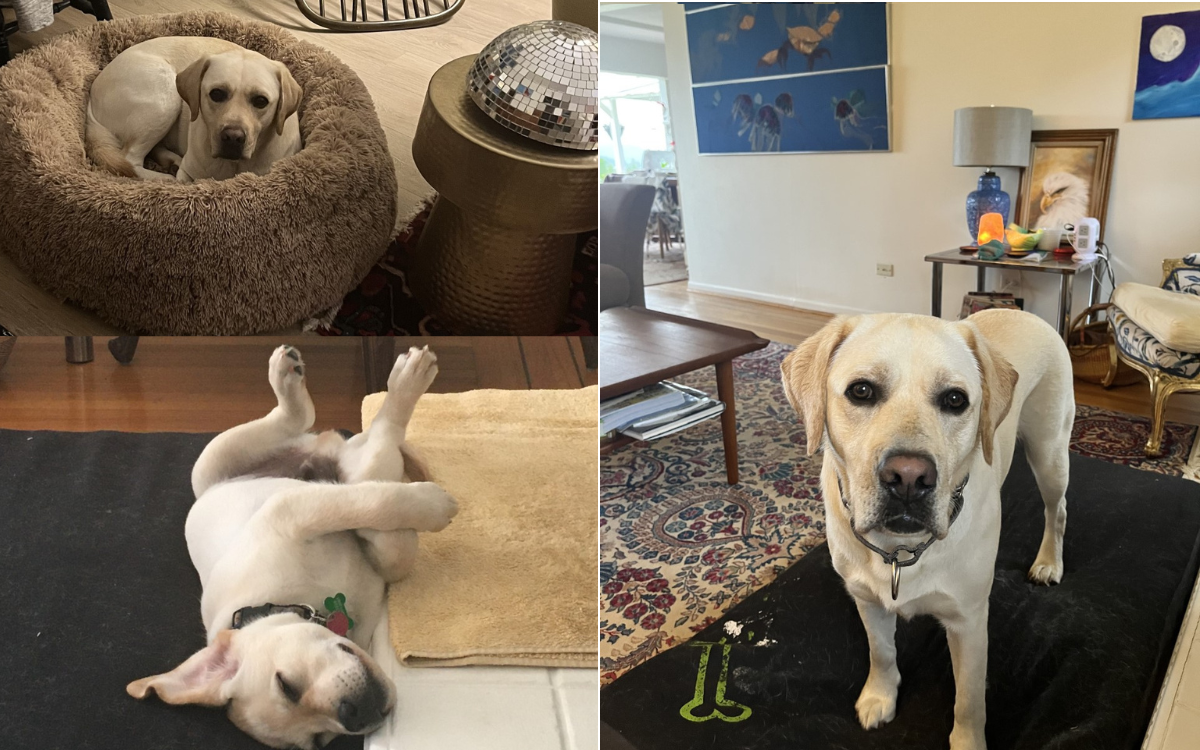 It's been another emotional roller coaster with Newsweek pet stories this week.
Over the past seven days, we've covered the full gamut of emotions, whether it's been the story of one puppy giving its dog sibling a good nibble or the one about an adorable canine abandoned along with a heartbreaking note.
This week's Pet of the Week stories are no different. Four top dogs made the cut, and each one is well worthy of inclusion.
Don't forget, if you think your pet is worthy of inclusion in our Pet of the Week lineup, head to the bottom of this page to find out how you can get involved.
The Pet of the Week Winner
Sherman was previously featured in a story in Newsweek that showcased his inability to scramble up onto an armchair. He may have failed that particular task but the yellow Labrador has more than succeeded in raising spirits among his family after a particularly difficult time.
Mother-of-two Heather Martini and her family, who live in Canada's British Columbia, have been through tough times. First, her partner of 25 years suffered what she describes as a "widow-maker" heart attack, and then their beloved Landseer dog was diagnosed with an aggressive form of bone cancer and died soon afterward.
"It was depressing," Martini told Newsweek.
With her husband still recovering, the family decided to get a puppy during the pandemic. That puppy ended up being Sherman. His playfulness and desire to head out on walks to the park proved a blessing.
"He lifted our spirits," Martini said. "He is so funny and was a much-needed distraction from the hard stuff."
Things are looking much better for the Martinis now. The constant dog walks have helped her husband lose weight. Sherman continues to entertain them all and has even been known to help carry in the shopping.
"He is a big part of our family and we feel joyous to have such a kind and happy healthy dog," Martini said. "He makes us laugh every day, and if you're sitting he will put his front paws on your lap for a quick hug, not often but when you're in need of one."
The Finalists
Described as a "little diva" by her owner, Kitty Clark, Lucy is a Morkie, which is a Maltese Yorkie mix. Despite her diminutive stature, she has a very big personality.
"She is the epitome of a lap dog and a nonstop barker," Clark, who lives in Dallas, told Newsweek. "Although she's not that big, she thinks she is." Clark said Lucy's favorite things include people, squeaky toys and "her Chihuahua best friend."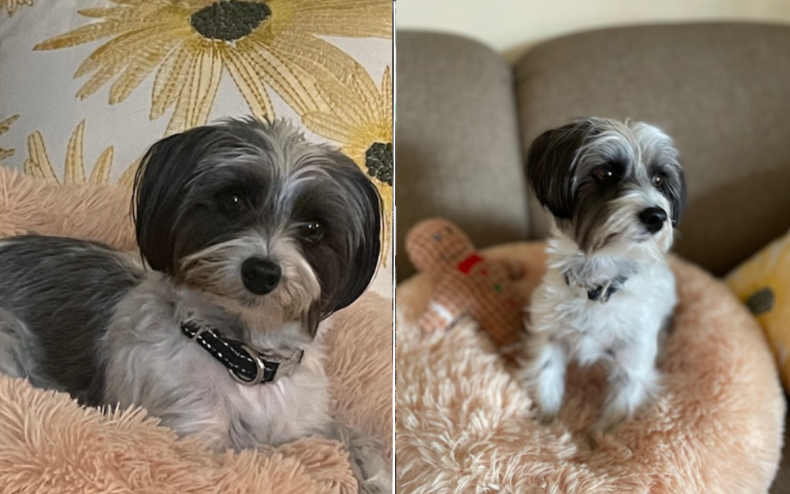 She's not an animal lover, though, with "squirrels" listed among her pet peeves.
"She hates to go on walks, but she's thrilled when visitors, human or dogs, come over," Clark said. On some occasions, she's had to give Lucy a "chill pill" before the mobile groomer comes round, just to be on the safe side.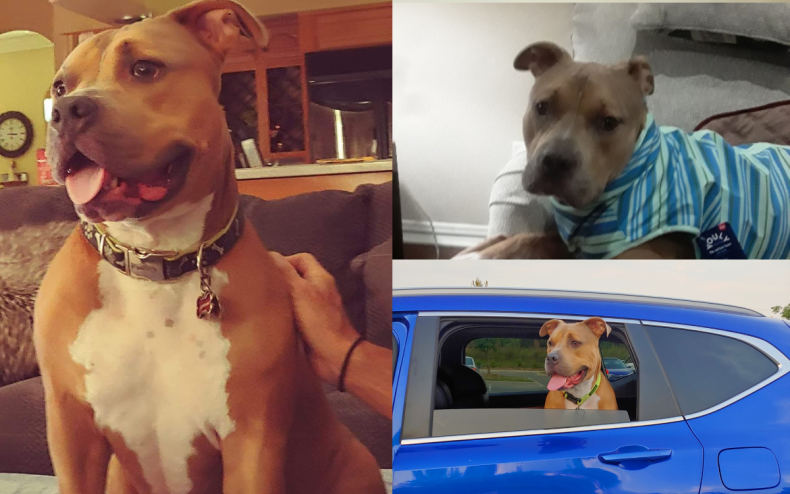 Hercules turned 5 earlier this month. For most of that time, he's been looked after by owner Laverta Anderson, who told Newsweek she "never was fond of dogs" until she inherited her 5-year-old American bully, Hercules.
"I got him from a breeder," she said. "He was the smallest of his litter so wasn't considered a moneymaker and was therefore not needed."
Anderson said she "bottle-fed" Hercules to help bulk him up. As a result, he grew to be the biggest of his litter.
The bond between Anderson and Hercules is a strong one. "The minute he opened those beautiful blue eyes he knew I was his mom and I knew that he was my boy," she said. "He goes everywhere with me. He actually cries real tears down his cheek when I try to leave him behind and will jump in between anybody that I try to talk to."
The two enjoy a happy life together in Pflugerville, Texas, with Hercules liking nothing better than a chew on a squeaky toy.
"I know they have a bad reputation, but if you don't cause it upon yourself he will not hurt you," she said. "He's just like a big lap dog. He likes to play and jump and run, and he loves attention and I don't mind it. I would not trade him for anything in this world."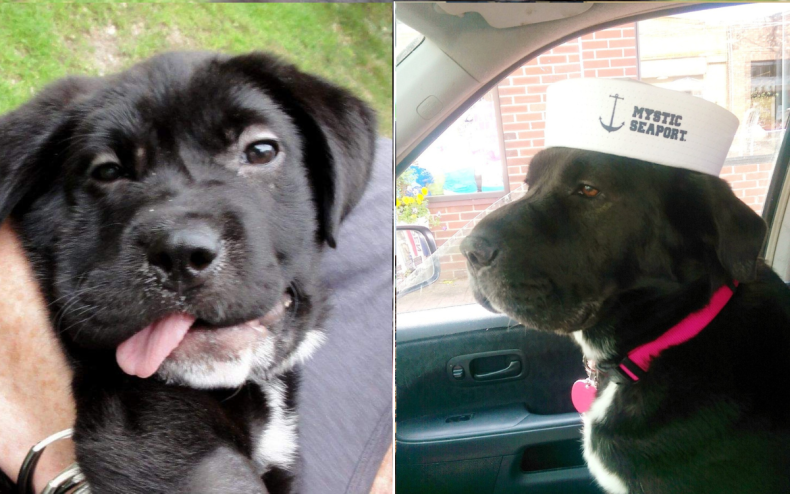 Dory the rescue dog overcame tragedy and serious illness before finding a happy home with owner Leslie Donovan.
"She had survived a flood in Tennessee after the entire litter and her mother had died," Donovan told Newsweek. "She developed a strong case of [parvovirus] as a result and had four intravenous sections on her legs from procedures."
Dory spent time in confinement while she recovered from the highly contagious illness. But by the time she was fit and healthy again, she had another reason to cheer after Donovan adopted her.
"She was drunk with freedom when finally getting to our home," her owner said. "She is now a strong, healthy, happy dog."
Do you have funny and adorable videos or pictures of your pet you want to share? Send them to [email protected] with some details about your best friend and they could appear in our Pet of the Week lineup.
Most Related Links :
Daily News Era Latest News Sports News Finance News Automobile News