World Updates
Video of Donald Trump Jr. barely letting McCarthy speak goes viral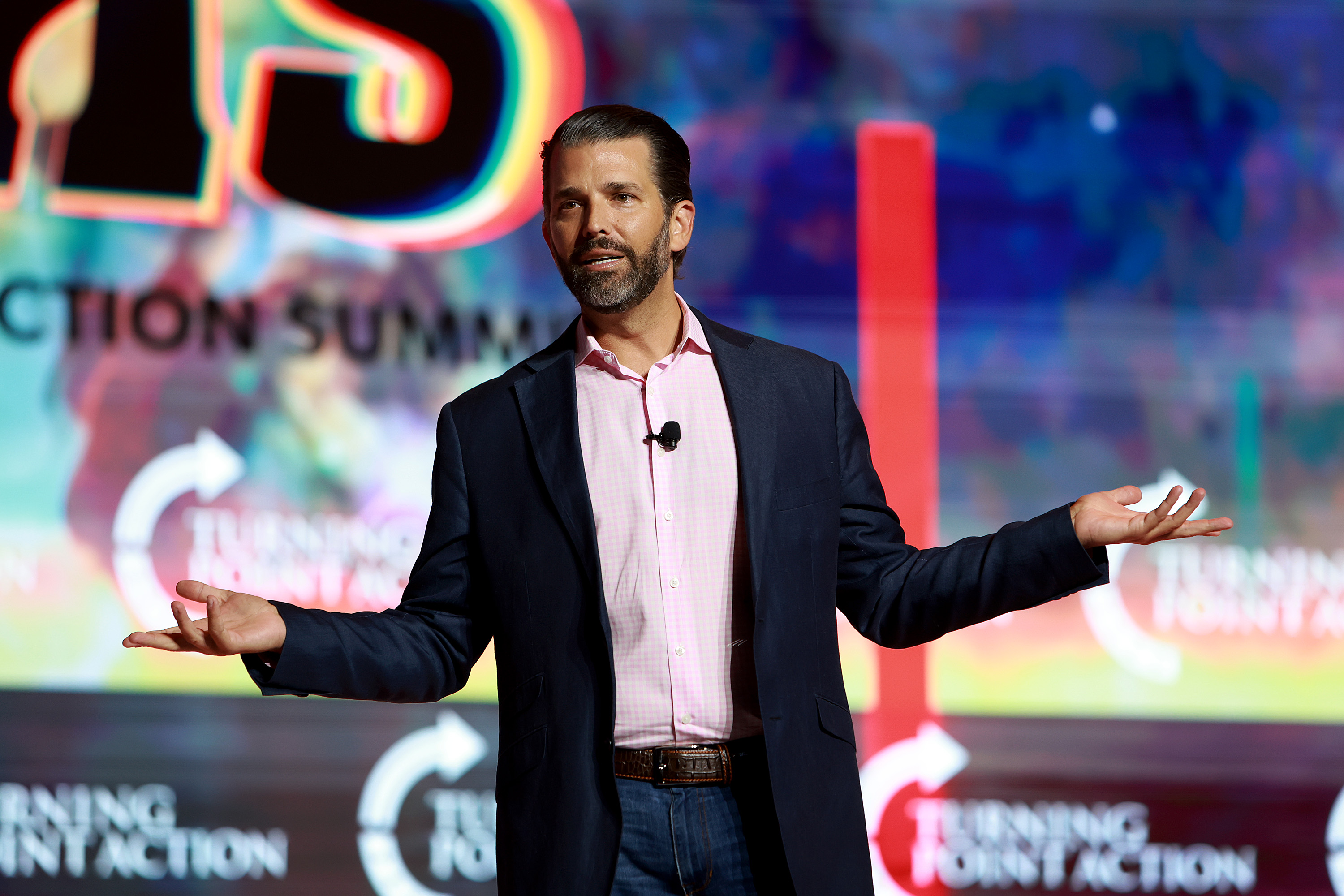 A video showing Donald Trump Jr. interviewing House Speaker Kevin McCarthy—but barely letting him speak—has gone viral on Twitter.
McCarthy joined Trump for the second episode of Triggered with Don Jr. this week. In the clip tweeted by attorney Ron Filipkowski, the topic of conversation is the host's father, former President Donald Trump.
Trump Jr. is praising his father and McCarthy tries to jump in at several points to express agreement, but Trump Jr. continues to speak over him.
"This is supposed to be Junior interviewing Kevin McCarthy in his new gig as a 'journalist,'" Filipkowksi posted on Friday. "McCarthy can't get a word in. I did not edit this."
The 46-second clip has been watched more than 160,000 times on Twitter as of early Saturday. The full hour-long episode is available on video platforms including Rumble, which is popular with conservatives.
Toward the end of the interview, McCarthy and Trump Jr. discussed the right-to-try law signed by the former president, which allows terminally ill patients access to experimental treatment.
Trump Jr. said: "Perhaps his greatest, maybe, political weakness was that he never wanted to show his empathetic side. I'm dealing with China, I'm dealing with Iran. I can't be soft."
McCarthy appeared to try to jump in, responding emphatically "No" and "Yes" as Trump Jr. continued speaking.
"I'm like, you don't have to be soft with them but, like, show that side," he went on, while McCarthy again responded "No."
"He still had that old-school Germanic sort of whatever it was," Trump Jr. said.
"Yeah, I don't know if…" McCarthy put in, but the host continued: "He actually has so much more of that empathy."
"I wish…" McCarthy began, but Trump Jr. carried on speaking, mentioning suburban women and how he had wanted his father to show how empathetic he was.
During the episode, Trump Jr. also suggested that members of Congress should learn how to "hustle."
"I understand where I come from and my background—I get it. But my father made sure I worked minimum-wage jobs….I also worked for tips, which is something that's really important that everybody should understand," he said.
Former President Trump travels to New Hampshire and South Carolina on Saturday, in what is likely to be a key weekend for his hopes of securing the 2024 Republican nomination. He will hold the first official rally of his presidential campaign in South Carolina after speaking at the annual meeting of the New Hampshire Republican Party.
Newsweek has asked the Trump Organization for comment.
Most Related Links :
Daily News Era Latest News Sports News Finance News Automobile News