Politics
Nadine Dorries Runs Boris Johnson A Warm Bath On Talk Show Debut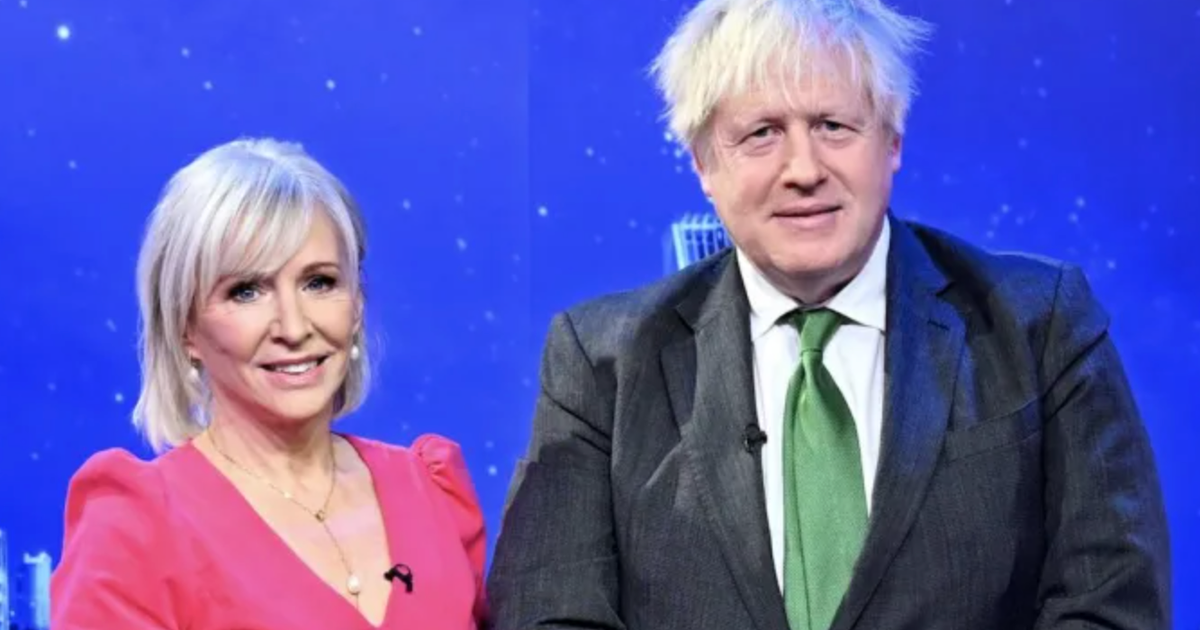 Boris Johnson has faced arguably the easiest interview of his career after appearing on the debut talk show of "friend" Nadine Dorries.
Dorries, who served in Johnson's cabinet, opened her TalkTV programme on Friday night with a sit-down with the former prime minister.
Frost-Nixon it was not, as the host disregarded many of the conventions of a serious political interview.
Throughout Friday Night with Nadine, which included break-out conversations with a panel of pundits, Johnson was praised for his handling of the pandemic and support for Ukraine, while his behaviour during "partygate" was defended.
Dorries set-up the conversation as an interview with her "friend and former prime minister", and soon referenced his "powerful article" calling for tanks to be sent to Ukraine days before Germany ended its hesitation over arming its ally.
She went on that Johnson "saw that we needed to get involved (in Ukraine) very early on" when "not everyone was", in an apparent reference to a cabinet split.
In conversation with her panelists, she continued: "He's being very modest in the impact he's had in persuading others to send more arms to Ukraine."
She added he was "leading the world" in coalescing Western leaders.
On partygate, which saw Johnson fined for breaking his own lockdown rules, Dorries was even more strident in her backing of her former boss.
She said to him: "I know you. And I know you are the very last person who would willingly, without being dragged there, go to a party. Boris … I know you're not going to like me saying this, but you're not actually big on small talk or parties … you're just not a party animal."
Getting to her question, Dorries added: "Do you think it was wrong of you to focus all your attention on making sure we made the vaccine, we delivered the vaccine, we were one of the first countries to lift restrictions … or do you think you should have been prowling the corridors of 10 Downing Street, in that warren of offices, checking up on 250 employees and asking them what they were doing on Friday nights when you were at Chequers?"
Johnson replied: "I'll just repeat what I've said before, and I hope it's obvious to everybody, that anybody who thinks I was knowingly going to parties that were breaking lockdown rules in No 10, or then knowingly covering up parties that were illicit that other people were going to, that's all strictly for the birds."
She returned to the theme with her panel, and appeared to criticise the media's negative coverage of the pandemic. More than 216,000 people in the UK have died with Covid-19 on their death certificate.
Dorries said: "There was so much that was going on that was good and right. First country to produce the vaccine, to administer the vaccine. We did so well … we were one of the first countries to lift restrictions … of course the media has to look for all the bad as well.
"Do you think in the heat of the covid moment, perhaps what we needed was something a bit more inspirational … that was there to look at what was happening that was good, be proud of who we were in leading the world on covid vaccination?"
Elsewhere, Dorries criticised Rishi Sunak as the "submarine prime minister" while Johnson is "out there making the case" as the Tory poll rating collapses. The interview also revealed that Johnson almost "blacks out laughing" at the Peter Sellers' Pink Panther films, and that he's attempting to master drawing cows.
He said: "Cows are actually far more difficult to draw than you think. How many toes on the front does a cow have? It's two, and they've got a little thing on the heel. And what do you call that bit of the cow? I think it's called the withers. What do you call the back of the knee of the cow? The hock."
Most Related Links :
Daily News Era Latest News Sports News Finance News Automobile News